DAVY K
"

"The Davy K Project, a tight trio fronted by Davy K, a blistering guitarist who can shred with the best of them. They have a gnarly sound all of their own, gritty and raw packed with attitude and with Davy's intricate guitar work you can't help but be mesmerized by their highly engaging set."  "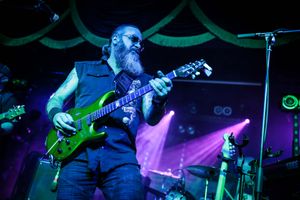 Davy Kerrigan is no stranger to the music scene having clocked up more than 35 years in the business, his unique style, both on vocals and guitar are well known throughout the circuit.  
Davy is a solo blues/rock artist and also fronts the fantastic DAVY K PROJECT, a Live 3 piece Classic Rock/Blues/Rock 'nRoll band 
currently performing all over Ireland/Europe to rave reviews  
Also an "UNPLUGGED" show which has been receiving rave reviews on the music circuit. 
All the classics/original material, done acoustically with the unique Davy K Project/Davy K slant. 
Live, honest and professional!  
Davy has always loved to sing and play guitar and realising the enjoyment he gets from doing so, plus the intimate experience an audience can have hearing great songs delivered in a honest and professional  manner, he set off on his musical journey, providing music for any audience at any function.  
Davy has also recorded with Rock superstars Tony Carey (Rainbow), Ron Wikso (Foreigner) Neil Murray (Whitesnake) and Marc Lynn (Gotthard) and has just released the Davy K Projects debut album, featuring 9 original songs, on Feb of this year to critical acclaim. 
He is now available for bookings  
Davy is based in Co Tyrone, but is currently performing all over Ieland/Europe both solo and with The Davy K Project, so catch him at one of his shows soon.  
He takes great pride in his music 
Live, honest and professional!
You are visitor number: 20799